A photo of our medium pile plush ivory-white faux fur stoles used on Nellie's bridesmaids at her wedding in California.
This is what Nellie said after receiving them.....
'I received the stoles today. Oh My God....I LOVE THEM! They are so fabulous and you did a wonderful job on them!!! They are much more beautiful then I pictured they would turn out to be. I am so happy that I decided to purchase them. They are going to be PERFECT for my bridesmaids. I know for sure that all the girls are going to love them. As I have said before, THANK YOU SO MUCH! It was truly a pleasure doing business with you. Just know, that you have another very happy customer. I would be more then happy to be a referral for you if you should ever need one.
Best of Luck!!
Lots of Thanks! Have a wonderful weekend,
Nellie
California, United States'
Click on photo for a larger view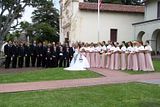 Our antique ivory faux fur wraps made to Sarah's specification.
Simone in our antique ivory faux fur shrug
Photos below are of our long pile white faux fur shrugs on Jacky and her bridesmaids

Hi Georgie, Thank you so much... the shrugs were a huge success! I am waiting for the photos to come back, as soon as I have them, I will e-mail you. Just to set the scene.... Bridesmaids put their dresses on and they looked FAB... then the shrugs.... OH MY GOD Knockout ! Then me... Dress on... looked pretty fab too.... Then the shrug.... Well what can I say.... Joan Collins eat your heart out! My bridesmaids said that I looked liked a fairy princess. The door to the wedding room opened and my family & guests gasped ! We had a magical day. Thank you for the very quick delivery, We were very impressed ! Thanks again. Kindest Regards Jacky
Jacky and her bridesmaids in our long pile white shrugs
A very sweet little bridesmaid wearing our medium pile plush ivory-white shrug
Brenda and her bridesmaids in our long pile plush ivory-white and ruby red faux fur shrugs
Leah and her bridesmaids in our long pile white stole and faux fur shrugs
Sarah and her bridesmaids wearing our medium pile plush ivory-white faux fur shrug

Diana's bridesmaids in our long pile plush antique ivory shrugs
Reviewer:
Louise
from
Co Durham
The shrug I ordered for my February wedding arrived yesterday, it looks fabulous. It's just the finishing touch I needed to make an already special outfit that little more perfect! Organising a wedding can be stressful enough and the help you gave answering queries and supplying swatches made the whole process that much easier. I've already passed on your website address to friends and colleagues and hope that they can also find their perfect 'something'! Thank you again. Louise
Reviewer:
Sarah Theobald
from
Gravesend, Kent
The shrugs are amazing, received very quickly they are going to be great for my wedding in 2 weeks time, especially with the weather!
Reviewer:
Jenny
from
Reading, Berkshire
Georgeous shrug, and arrived within 5 days of placing order. Much nicer than the ones I have seen in the shops and a much better price. Thank you:)
Reviewer:
jo
from
kent
fantastic quality, received quickly and just finishes wedding dress off, thank you.
Reviewer:
sarah o'leary
from
bristol
Excellent quality shrug and perfect fit too. It just finsishes off my evening dress perfectly. Many thanks for the hasty delivery and email updates.
Reviewer:
Nicci
from
Essex
I would just like to say how pleased I am with the shrugs I ordered for my wedding. I will gladly reccommend your company to anyone who is looking for the products you make, the service you provide is fantastic.
Reviewer:
Karen
from
Newark, Notts
Samples arrived quickly with nice sized pieces for me to see the quality/pile. I was kept fully updated on the progress of my order by Georgina and my order arrived on the day stated. The shrug is gorgeous and excellent value for money and just what I wanted - some I had seen in shops at more than twice the price covered up the front of my dress whereas mine is just perfect - I would definitely recommend you to my friends and family - Thank you.
Reviewer:
Simone
from
Sheffield
I've bought 4 shrugs altogether for my Wedding in February. They are all made from beautiful long plush pile, mine in Ivory and the bridesmaids' in Pink Floss. I have to say Georgie looked after me through the whole process, helping by sending samples of the materials and sorting me out when I realised I ordered the wrong size. So thank-you Georgie x
Reviewer:
Angela
from
HEMEL HEMPSTEAD HERTS
RECIEVED MY SHRUG TODAY, AND ITS LOVELY, I TRIED IT ON WITH MY DRESS AND IT LOOKS FAB, MY DAUGHTER IS GETTING MARRIED IN MARCH SO I KNOW I WILL LOOK GREAT AS WELL AS WARM, AND BY THE WAY VERY PLEASED WITH DELIVERY TOO, I WILL TELL ALL MY FRIENDS ABOUT YOU, I AM SO PLEASED WITH MY SHRUG I KEEP TRYING IT ON, ONCE AGAIN A BIG THANKS
Reviewer:
Jo
from
Coventry
What can I say it's just perfect, thanks for all your help.
Reviewer:
Marilyn Richardson
from
Scotland
I have just received a shrug from FauxPlay and I am absolutely delighted with it. I can highly recommend this company. Also Georgie could not have been more helpful with my enquiries, sent me lovely samples and her responses were always immediate. I am now looking forward to wearing my shrug and can't wait to tell everyone where I got it.
Reviewer:
Patricia
from
Belfast Northern Ireland.
What a fantastic company to deal with. Constant updates from Georgie, samples arrived in a few days and were beautiful. Even queries were answered overnight. Shrug arrived less than a week after ordering and it was even more beautiful than the website could show and very well finished. 10 out of 10 for customer service and product excellence. Patricia
Reviewer:
Debra Ceka
from
Huddersfield, UK
The shrug is gorgeous, it will look beautiful with my wedding dress for our winter wedding! Your service is excellent, the delivery was very quick. Many many thanks!
Reviewer:
Sara
from
Leicestershire
Thank you so much for my shrugs for my December wedding, they arrived very quickly and look gorgeous. I would especially like to thank you so much for all your help with colour matching, swatches and everything... It really was a great service, very personal and I would happily recommend you to anyone who asks! Will send you some pictures in January!
Reviewer:
Charlotte
from
Sheffield
I am really pleased with my shrug. I have been searching the high street for a shrug with no luck. It looks perfect with my dress for a friends wedding. Thanks for the excellent customer service.
Reviewer:
Audrey Ross
from
Glasgow
Delighted with the prompt delivery of my shrug, really pleased with it, it looks great!
Reviewer:
Sharon Elm
from
Gunness
The shrug arrived yesterday and I am very very pleased with it. I would like to thank Joy and Georgie for great communications and help with getting it right. It is just what I wanted and I'm very grateful for all your help. 5***+ service :)
Reviewer:
Liz Milward
from
London
Thank you very much for the shrug. It arrived safe and sound. It fits my sister perfectly and we are both very happy with it. Thanks for such a good quality and speedy service!
Reviewer: Margaret Morton from Inverness

Needed a wrap for my wedding on the 24th February and could not find any thing. Went on the net and found FauxPlay. Ordered hoping it would be ok and streessed that I needed it quickly. The order was dispatched and the sender kept me informed. Wow it was lovely and I am so glad that I found this site. i would have no hesitation reccommending anyone to use it.

Reviewer: Megan from Cannock

My product was beautiful and amazing, also it was delivered very quickly thank you. This is a great website. love megan xx

Reviewer: Marilyn Ferguson from Braemar

Excellent service and communication. Wraps are beautifully made and exactly what is required. Many thanks. It was a pleasure to do business.

Reviewer: Lynda Thomas from St Albans

It was great to have a (friendly) person at the end of the phone and email to give advice and to let me know when my wrap would be ready. The wrap is lovely and was delivered in plenty of time for my wedding. Thanks!

Reviewer: Wendy Murray from Gateshead

Wow, Its fab and so prompt. Made to measure feels so luxurious but at bargain prices. I would definitley recommend to friends.
Reviewer: Jo Loosemore from Exeter

The stole I ordered is perfect, just what I've been looking for and at the right price too. Thanks for such an efficient service. All the best, Jo

Reviewer: Peter Jordan from Hessle

I received my order of two stoles in record time. Both were most beautiful and colours vibrant. Exactly what my granddaughters want. Many thanks indeed.

Reviewer: Michaela Swindale from Stoke On Trent

Beautiful muffs and stoles. Super service and prompt delivery would recommend. Thanks Michaela

Reviewer: Sarah Kelly from Kent

I have recently ordered 4 ivory stoles. They arrived in record time and are so beautiful. My bridesmaids couldn't agree more and cannot wait to wear them. i am sure they will get lots of compliments on the wedding day. Thank you Fauxplay!!

Reviewer: Susan from Ayr

Very prompt and efficient service. Item exactly what I've been looking for.Pleasure doing business with you

Reviewer: Tina from Northamptonshire

Dear Georgina, Have received the fur stoles and am absolutely over the moon with them. My daughter and I are to wear them at my wedding, cant wait. Thank you so much. With kind regards Tina.

Reviewer: Charlotte Jeffery from Wigan

The stole was beautiful and much admired at our wedding. It arrived really quickly too. Thank you so much.

Reviewer: Jean Downey from Los Angeles, California

Faux Play is the best when it comes to customer service. Georgie led me through the entire process from sending us samples to asking for exact measurements so my daugher's stole would be a perfect fit. She also let me know when the stole had been shipped and asked that I let her know when we received it. We couldn't ask for anything better, product or service.
Reviewer: nikki from surrey

Really helpful especially when i had all my questions that i needed answering. The muffs were beautiful exactly what i wanted they were better than the photo. I will definitely use these people again, Thanks again, Nikki

Reviewer: alison from grassington, north yorkshire

thank you very much for my 13 year old twin bridesmaid's furs and muffs - they love them and they will keep them warm during my Christmas wedding. The sizes are perfect and the colours gorgeous - will send a photo after the day
Reviewer: Hayley from Leicester

Thank you FauxPlay! I was after something quite specific for my winter wedding and couldn't quite find it. Georgie was so helpful and accommodating in her email communications. After checking out some samples, it resulted in me getting just what I was looking for and at a sensible price too! The quality is lovely and the service amazingly fast for made to order items. I can't wait to show off my hat, curved wrap and muff at the wedding. I thoroughly recommend this site/company to anyone!
Reviewer: barbara vial from derby

After a long search I finally came across your web site and found exactly what I needed . My order was completed and despatched within days..It fits perfectly looks great - what more can I say except thank you very much for your prompt and efficient service

Reviewer: Paul Bishop from Birmingham

Excellent products, service and price. Thanks for your hard work and great communication. We were thrilled with the products

Reviewer: Diana Burgess from St Leonards on Sea

Hello Georgie Just had to e mail & tell you what a wonderful wedding my daughter and son in law had last week. The shrugs that I ordered for my daughter and her bridesmaid were absolutely beautiful. When I ordered them you told me that they may take up to 10 days to receive but they arrived within 6 days. Such good service. I will recommend your website anytime! With kind regards Diana Burgess
Click here to view just a few of the many emails we've received from our customers
© 2004-2007, fauxPlay